Ordering Information
Shipping
In stock orders ship complete same day or the next business day. A shipment confirmation email will be sent to you at the time of shipment, including tracking information. For orders that include back-ordered items, your order will be fulfilled with multiple shipments. The items in stock will be shipped at the present time, and back-ordered items will be shipped once they are restocked. We will contact you shortly after your initial order is placed with details of a time-frame for back-ordered items. You will not be charged shipping on back-ordered items.
Pricing for shipping options are calculated during checkout. You will have several shipping options to choose from through DHL, Fedex, United Parcel Service (UPS), or United States Postal Service (USPS). You may also bill shipping to your DHL, Fedex, or UPS account.

USPS First Class
USPS Priority
USPS Express
UPS Ground
UPS 2nd Day Air
UPS Next Day Air (By end of day)
FedEx Ground
FedEx 2 Day
FedEx Standard Overnight
FedEx Express Saver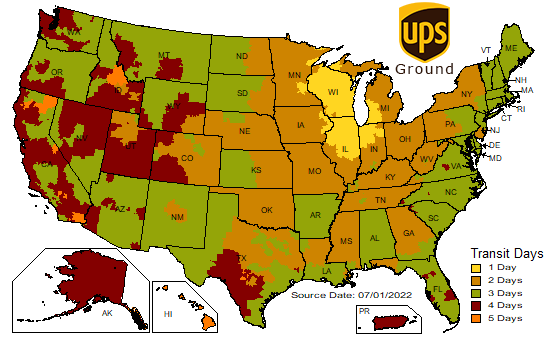 UPS Ground Service Map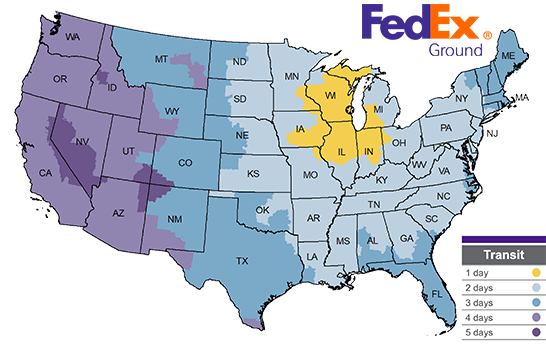 FedEx Ground Service Map
International Orders
USPS may experience delays due to reduced air cargo capacity, and delivery restrictions in other countries from the impacts of the novel coronavirus pandemic.
We have decided to continue to offer USPS First Class/USPS Priority shipping options in order to provide more affordable shipping options for orders that are not time critical. Use USPS at your own discretion – until further notice, we can not consider a USPS First Class or USPS Priority mail shipment to be "lost" until at least 8 weeks from the ship date. If your order is urgent or time sensitive, we recommend choosing DHL, FedEx, or UPS.
Prior to finalizing your order, please confirm your location is being serviced by the selected shipper. Service status for:
USPS
UPS
FedEx
DHL
Our webstore is setup to make international order checkout fast and easy. We offer a variety of shipping methods including:

USPS First Class Mail International (Suspended for Russia as of Mar 11, 2022)
USPS Priority Mail International (Suspended for Russia as of Mar 11, 2022)
USPS Express Mail International (Option suspended at this time due to COVID-19)
DHL Express Worldwide (Suspended for Russia as of Mar 9, 2022)
UPS Worldwide Saver (Suspended for Russia)
FedEx International Economy (Suspended for Russia as of Mar 28, 2022)
FedEx Priority (Suspended for Russia as of Mar 28, 2022)
Shipping charges do not include customs fees that may be assessed by your country during delivery. Any applicable customs/import fees are the responsibility of the customer.